What to spot on the Kaitorete Spit
Kaitorete Spit is a long finger of land which extends along the east coast of Canterbury.
It runs southwest from the Banks Peninsula for 25 kilometres and separates the shallow waters of Te Waihora/Lake Ellesmere from the Pacific Ocean. The Spit was formed about 7000 years ago by gravels transported by the Rakaia River and pushed into place by the Pacific Ocean.
Kaitorete Spit is actually a low-lying barrier, with the tiny settlement of Birdlings Flat at its northern end and Taumutu and Ngāti Moki Marae at its southern end. The barrier is of considerable ecological significance and it contains a remarkable collection of plants, several rare species of insects, reptiles and birds.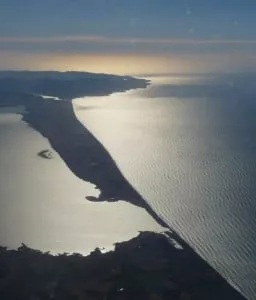 It is home to the majority of surviving specimens of shrubby tororaro (Muehlenbeckia astonii), a nationally endangered endemic plant, and is the largest remaining area in New Zealand of native pingao/sand binder- a bright-orange plant prized for weaving.

Kaitorete is also home to other threatened plants and animals, some of which are unique to this location, such as Kaitorete woolly head – Craspedia 'Kaitorete', and Kupe's grass moth, a flightless moth found nowhere else on earth!
It's a fantastic place to spot katipo spiders and lizards too.
Kaitorete Spit has considerable cultural value to Ngāi Tahu
Kaitorete Spit has considerable cultural value to Ngāi Tahu because of the ancestral associations with the area. Its ancestral name, Kā Poupou a Te Rakihouia denotes the function of the Spit – which is similar to that of a tuna/eel weir, guiding tuna into the mouth of the hinaki/eel trap. In this case, the eels are guided to the Taumutu area where the kōumu/eel channels are constructed to catch migrating eels.
The spit was also an important main trail between mid-Canterbury and the south, as well as a place of seasonal food gathering, tool gathering and fishing camps. In archaeological terms it has one of the largest concentrations of Māori sites in the country.
Māori korowai/cloak unearthed on the spit
In 2004, one of the country's most significant textile finds was unearthed on the spit – tiny fragments of a Māori korowai/cloak carbon dated at around 1500AD, making it two centuries older than any cloak ever before found in Aotearoa New Zealand.
Archaeologists have also unearthed the charred remains of a small shelter, stones tools, a pātiki/flounder midden, evidence of cooking ovens, pieces of kōkōwai/red ochre traditionally used by Māori for painting and decorating, a second cloak fragment, pieces of woven sleeping mat, albatross bones, tools, pieces of roof thatch, part of a woven belt and a 600mm long segment of carved wood. All have been removed from the site and restored within the controlled environment of Canterbury Museum.