The establishment of two large native planting sites will mark another major step toward restoring native biodiversity in the Selwyn region of the Ngā Pākihi Whakatekateka o Waitaha/Canterbury Plains.
In August 2021, members of the Te Ara Kākāriki Canterbury Greenway Trust and friends gathered to plant the first of what will eventually be thousands of native seedlings at Ahuriri Reserve.
Image below: Les Wanhalla, Te Taumutu Rūnanga.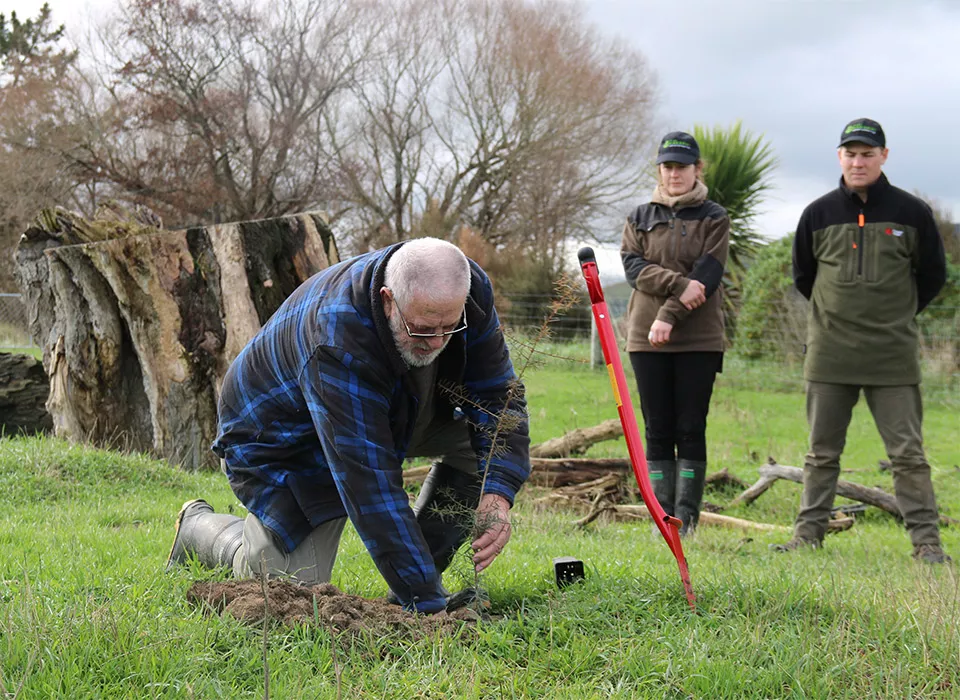 Ahuriri Lagoon restoring fauna to the area
The 3.5 ha site, located between Tai Tapu and Motukarara, is Environment Canterbury-owned endowment land.
The site lies 500 metres upstream of the former Ahuriri Lagoon, and is a recently re-created wetland that has been planted with thousands of aquatic and semi-aquatic plants, and is already attracting fauna to the area.
As well as 20,000 plants from the tōtara/mataī plant community, a walkway and shelter will be established in the site, which can be reached from the end of Neills Road, and runs parallel to the Huritini/Halswell River and the Little River Rail Trail.
Ngāi Te Ruahikihiki kaumātua and co-chair of the Selwyn-Waihora Zone Committee, Les Wanhalla, who also represents Te Taumutu Rūnanga on the Ahuriri Lagoon Steering Group, said that the first totara planted at a special dedication ceremony would be the "Tāne Mahuta" of the planting area, and acknowledged the dedication of generations of Ngāi Tahu and the wider community to see Ahuriri restored.
Greendots give natives a foothold on the plains
Te Ara Kākāriki is also establishing another major native Greendot inland near Springfield. A 6 ha site containing a moraine, known to the locals as Broom Hill, will also be planted with 30,000 eco-sourced seedlings from the tōtara/tawhai/beech forest plant community.
Te Ara Kākāriki coordinator Letitia Lum said her team is excited about the potential these areas have to attract native birds from the nearby mountains and hills.
"We've been planting Greendots all over Selwyn over the past 12 years (since 2018), as we work to establish a biodiversity corridor from the mountains to Te Waihora and the sea," Lum said.
"What we were missing were some larger sites that can extend the habitat of native birds, so they can re-establish a foothold on the plains. We hope these two sites, along with the other plantings being carried out, will help our native species thrive alongside us across the Selwyn region."
The two sites will be planted over the next three years (2021- 2023/24), partly by volunteers through Te Ara Kākāriki's annual volunteer plant-outs.