A trapping project on Kaitorete is helping reduce the number of animal pests across 5,000 hectares of biodiversity-rich land.
Representatives from 14 agencies, organisations, and rūnanga that established Pest Free Banks Peninsula (PFBP) recently spent a day on the spit (the stretch of land that separates Te Waihora/Lake Ellesmere from the Pacific Ocean) to see the progress being made on the current focus area.
The project is part of a wider aim to eliminate pests from the entire Peninsula by 2050. The shorter-term objective is to better manage key threats, such as possums, across 28,000 hectares in The Wildside, and to eliminate mustelids (ferrets, stoats and weasels), feral cats, and hedgehogs from Kaitorete.
Boosting efficiency through technology
About 230 traps – a mix of kill traps, Holden, and live capture traps – have been distributed across the spit.
Hundreds of hedgehogs, 15 feral cats, 20 weasels, and five ferrets have been captured since the first of the traps were laid in March.
Technology is a key part of the project's efficiency. When a pest is caught, a node on top of the trap reports back to a 'hub', alerting field staff. This minimises the amount of time that staff need to spend checking the traps.
$10.11 million in funding has been allocated to the wider PFBP programme over five years. Half of that has come from Predator Free 2050 Ltd, and Environment Canterbury contributes $600,000 annually.
Other key contributors include Christchurch City Council, Selwyn District Council, Department of Conservation, Rod Donald Banks Peninsula Trust, Summit Road Society, and the Banks Peninsula Conservation Trust – which administers PFBP.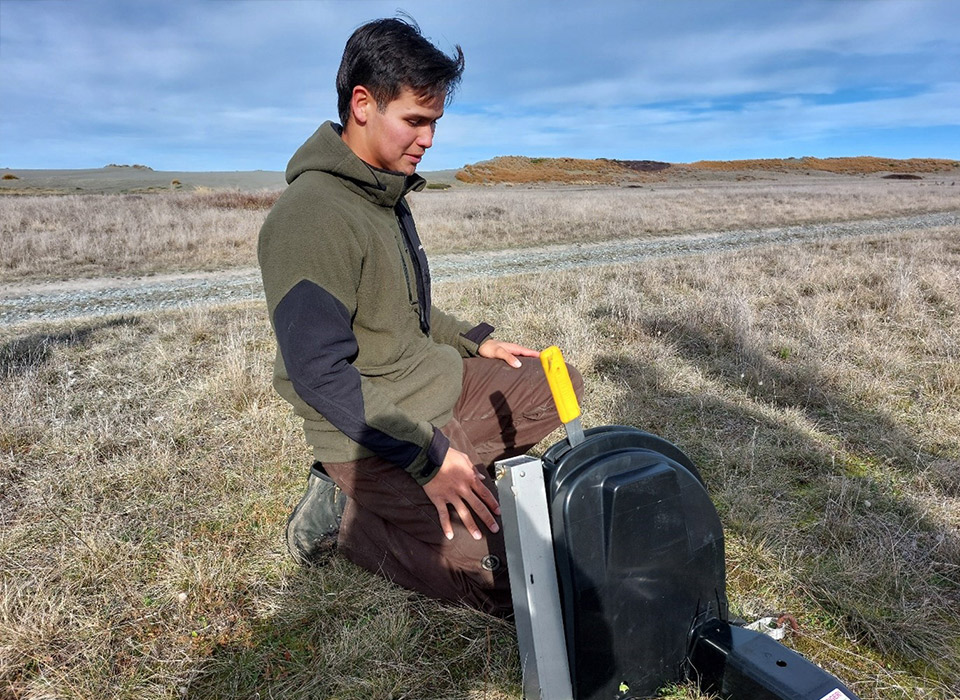 PFBP field team member Jayden Lum explains how a podiTRAP works
A precious landscape
PFBP Project Manager, Sarah Wilson, said in the scheme of things the team is just getting started.
"It's taken us a wee while to train staff, get the equipment, and get the knowledge about how to move forward – but now we're really beginning to shift gear."
Sarah said that while Kaitorete is probably a little-known area for many Cantabrians, it's very important in terms of its insect life. The spit provides habitat for more than 100 species of moths – including five that are flightless – plus various beetles, lizards, birds, and the katipō spider.
"From a pest control perspective, it's sort of a coalition of opportunity. The shape of the land makes it easy to work on, and then you've got this biodiversity that is possible to renew here."
PFBP works closely with Te Rūnanga o Ngāi Tahu and the five Papatipu Rūnanga who whakapapa to the Peninsula. They're on PFBP's governance board and are involved with all operations, including trapping.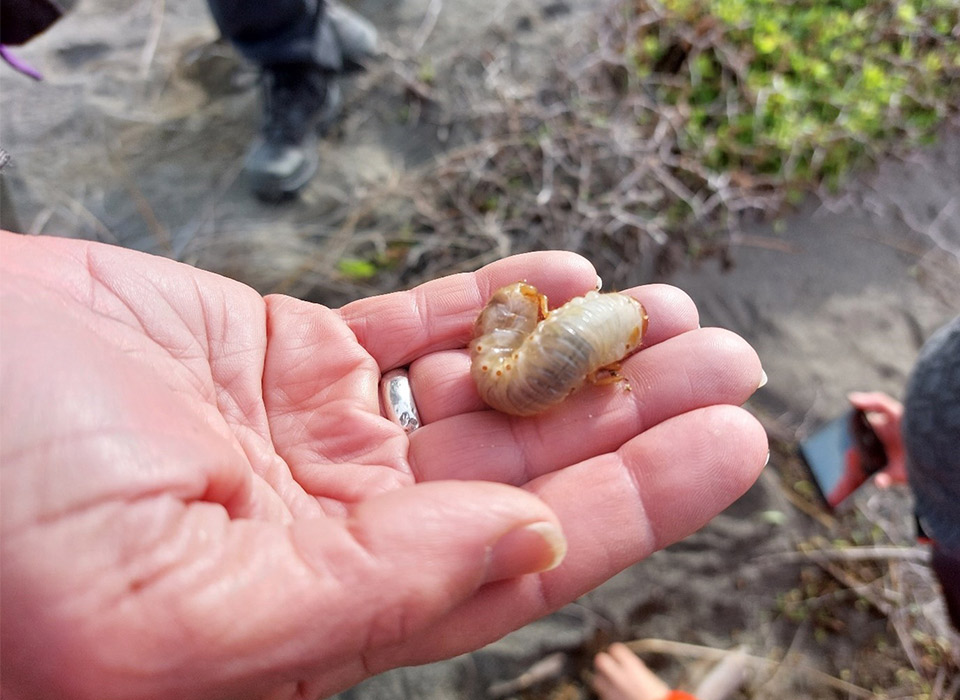 Pericoptus truncatus – a sand scarab beetle – is among the species that makes its home on Kaitorete
A long-term vision
As Mark Christensen, chair of the PFBP Project Oversight Group points out, the trapping work is just one aspect of the long-term ecological vision for Banks Peninsula.
"The vision has eight interrelated goals – one of those is about being pest free. The other seven are also around bringing back indigenous biodiversity – whether it's vegetation or birds. The whole idea of the pest-free vision is to reduce that pest pressure so that we can restore the biodiversity, which in turn will also help our economy to flourish."
David Miller, chair of the PFBP Project Management Group, was among those who attended the recent site visit and enjoyed getting an up-close look at the "interesting and novel" technology.
"The scale of what we're attempting is very impressive – especially given the fact we have limited resources tied to specific target species. But we have fantastic field staff and every reason to be hopeful, given what they've been able to achieve so far."