The Whakaora Te Ahuriri project has established a constructed wetland at Ahuriri Lagoon to improve water quality, biodiversity and mahinga kai values. 80,000 aquatic plants have been planted in the water, and more than 52,000 plants have been planted around the lagoon. Extensive engineering and earthworks have also been completed as part of this twenty year project.
Water has been redirected from the nearby Huritini/Halswell River, so it passes through the lagoon and then reconnects with the river. The water will flow through the new plants and it is hoped that the plants will take up some of the nutrients and trap sediments the water is carrying, helping improve both plant growth and water quality.
These plants are providing food and habitats for native birds and wildlife and people will also be able to fish and gather mahinga kai here. In April 2022 a rare kōtuku/white heron was seen on the wetlands, showing the impact the wetland is already having on the ecosystem in the early years since it was established.
View progress updates for the project
Check out the massive work that has taken place to restore
Te
Ahuriri lagoon since the project started in 2018.
Whakaora Te Ahuriri, A Wetland for Te Waihora Documentary - 2/02/2022
Whakaora Te Ahuriri Project, Ahuriri Lagoon - December 2019
Whakaora Te Ahuriri Project, Ahuriri Lagoon - October 2019
Whakaora Te Ahuriri Project, Ahuriri Lagoon - July 2019
Whakaora Te Ahuriri Project, Ahuriri Lagoon - May 2019
History of the lagoon
Ahuriri Lagoon was once an open body of water stretching to the hills and surrounded by a rich wetland. It was a significant mahinga kai resource located on the Huritini/Halswell River between Tai Tapu and Motukarara. This lagoon was an important influence in the location of the Ngāti Koraha pā/village complex located on the spurs directly above the lagoon and extending toward Motukarara.
Pre-drainage, this area was a large lagoon/wetland area surrounded by "koraha" or mudflats created by the pre-European lake levels of Te Waihora. Between 3-4 metres above sea level, Ahuriri would at times become fully integrated with the larger waterbody of Te Waihora.
This wetland area supported a large harakeke/flax wetland that gave rise to a large flax mill that operated during the mid to late 19th century. Because of the productivity of this lagoon the area was extensively occupied by the Ngāti Koraha people. Pā me ngā kāinga nohoanga/fortifications and living sites are located on the spurs directly above the lagoon and extend toward Motukarara. A small warm (geothermal) waipuna/spring is also a valued and unique resource for this area.
The western-most tip of the spur/Te Mokopeke that runs down from Gebbies Pass juts out into the side of the Ahuriri lagoon. This site has important occupation and spiritual associations for Ngāi Tahu. There is also some small remnant dryland vegetation on this site that enhances its special link to past occupation.
From the late 1800s the lagoon was gradually drained for farming, and the ecological and mahinga kai values were all but lost.
The design of the Ahuriri constructed wetland was developed with input from Papatipu Rūnanga, the Ahuriri Lagoon Steering Group (representing the community, including neighbouring farmers), consultants, officials and staff from Environment Canterbury.
The project is funded by the Government's Freshwater Improvement Fund, Environment Canterbury, and NIWA. Earthworks commenced in 2018 and the planting phase commenced in 2019.
Mātauranga Māori
Whakaora Te Ahuriri project has a mātauranga Māori/Māori knowledge monitoring programme to gauge the changing value of the site for iwi, and an applied research component to measure improvements in water quality. A mix of modern science and indigenous knowledge are combining to paint a picture of Ahuriri Lagoon's past and present – and to forecast for a better future.
Boffa Miskell environmental consultants are conducting surveys of fish – including tuna/eel – and establishing an index of cultural health with the help from local Papatipu Rūnanga and the Ahuriri Lagoon Steering Group.
It is a unique project aiming to demonstrate how to measure the cultural outcomes of the project, and whether the resulting changes over time to the lagoon will improve cultural outcomes for Ngāi Tahu Papatipu Rūnanga.
"If we go back to not too long ago, we know that this area would have been completely covered in native species – there would have been no introduced species at all. That's a good indicator, knowing from there what we should be aiming for," Boffa Miskell consultant Craig Pauling (Ngāi Tahu – Taumutu).
News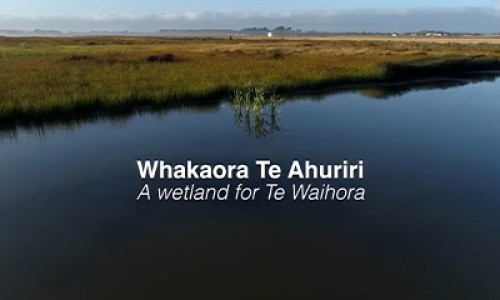 13 Oct 2021
Constructed wetland documentary released
Whakaora Te Ahuriri – A Wetland for Te Waihora, which documents the construction of Te Ahuriri was released in 2021.
Learn more
News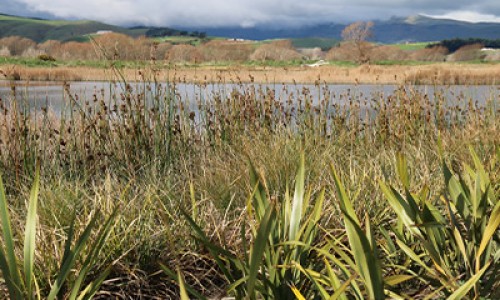 06 Jun 2014
Getting to know Ahuriri lagoon
Ahuriri Lagoon is a significant mahinga kai resource located on the Huritini/Halswell River between Tai Tapu and Motukarara.
Learn more