As the ecological and cultural backbone of the region, the story of Te Waihora/Lake Ellesmere is long and diverse. Learn more about the lake's history from early 5550BC until today.
5,500BC
Formation of Te Waihora/Lake Ellesmere
Te Waihora was formed around 7,500 years ago when Kaitorete Spit joined Banks Peninsula/Te Pataka o Rākaihautū. Due to the Waimakariri River changing its course to flow into the sea south of Banks Peninsula, lake openings were sometimes more frequent. The most recent time this happened was 700-1000 years ago.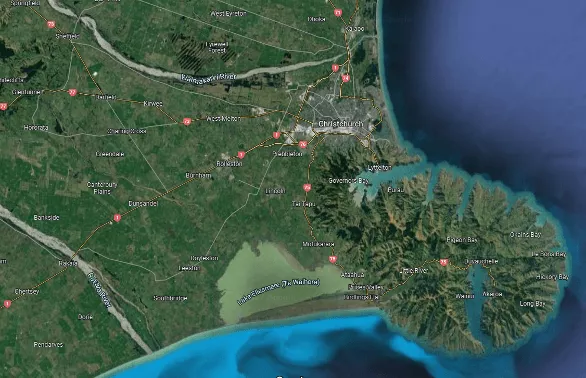 Source: Imagery ©2022 Landsat / Copernicus, TerraMetrics, data SIO, NOAA, U.S. Navy, NGA, GEBCO, Imagery ©2022 TerraMetrics, Map data ©2022
Early 1300s – 1700s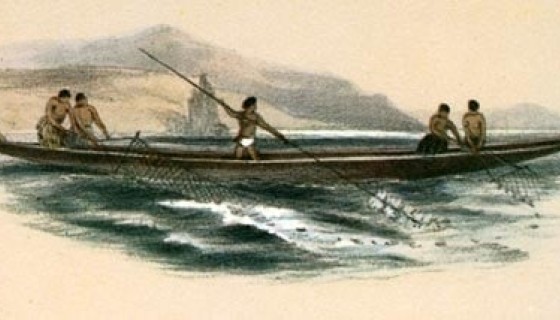 Tangata Whenua arrive and settle at Te Waihora
Kaitorete was an important main trail for pre-European Waitaha (early 1300s onwards), providing a link between mid-Canterbury, the west and the south. It was also a place for seasonal food gathering, tool gathering and fishing camps. Some generations later, the Ngāti Māmoe people arrived from Te Ika a Māui/the North Island, settling among the Waitaha. A prominent man of this tribe was Tutekawa who, in establishing his home at Waikākahi/Birdlings Flat, pronounced Te Waihora as his own.
Fishing method for whitebait in a lake.
Source: George French Angas, The New Zealanders illustrated. London: Thomas M'Lean, 1847.
1700s – 1860s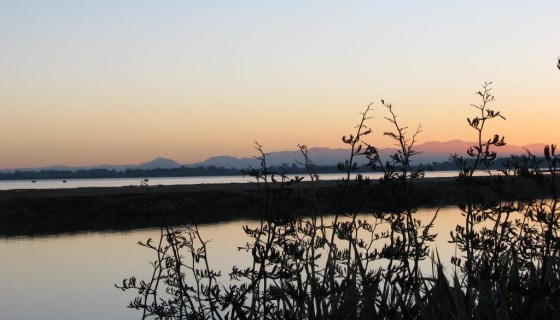 Early management of lake levels
Following Māori settlement at Taumutu, management of the lake levels began. Openings would be created once the lake reached around 3-4 m above sea level, to protect the settlements around Te Waihora and support the abundant fisheries of Te Waihora.
1830s and 1840s
First Europeans arrive
William Gilbert, an Englishman from an American whaling ship, is the first recorded European visitor to Taumutu, with more records of Europeans in this area from the 1840s on.
Te Waihora was named Lake Ellesmere by the early European settlers after the Earl of Ellesmere, a member of the Canterbury Association who promoted settlement in Canterbury but never visited New Zealand.
1848
The Canterbury Purchase (Kemp's Deed)
The Canterbury Purchase, commonly known as Kemp's Deed, was signed by a group of Ngāi Tahu chiefs on 12 June 1848. Henry Tacy Kemp, acting on behalf of the Crown, purchased 13,551,400 acres of land for £2,000. Kemp was directed to set aside for Māori 10% of the land area, considered sufficient land for their present and future needs. Only 6,359 acres was actually set aside as Native Reserves for Ngāi Tahu, less than 0.05% of the land.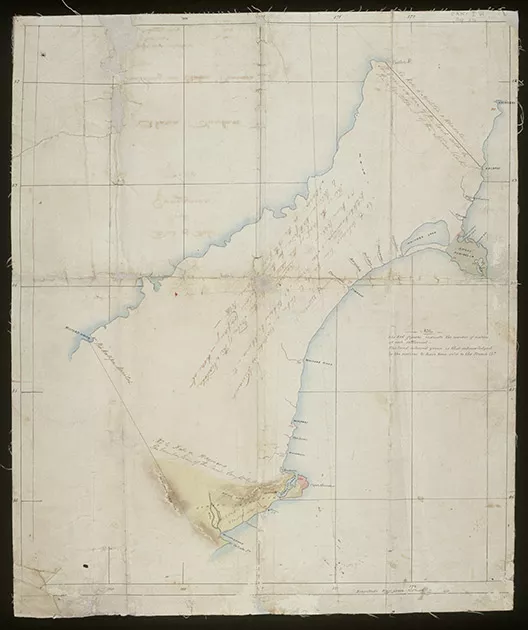 Source: CDP, Harry Evison Collection, Ngāi Tahu Archive.
1860s
Making a living on the lake
In the early 1860s, William White established a sawmill at Little River. Shallow draft paddle steamers carried the timber across Te Waihora to Taumutu, Waikirikiri/Selwyn River and Waitatari/Hart's Creek, where a large timber yard was established.
In 1864, commercial fishing for pātiki/flounder began. Up to 250 men and 20 boats were fishing from Taumutu.
1868
Brown trout introduced
Brown trout were introduced to the Te Waihora catchment in 1868. By the 1930s the lower Waikirikiri/Selwyn River provided some of the best brown trout fishing in the world. As well as providing recreation, trout were harvested commercially for Christchurch fishmarkets from several tributaries of Te Waihora. However, since the 1970s there has been a dramatic decline in the health of the fishery.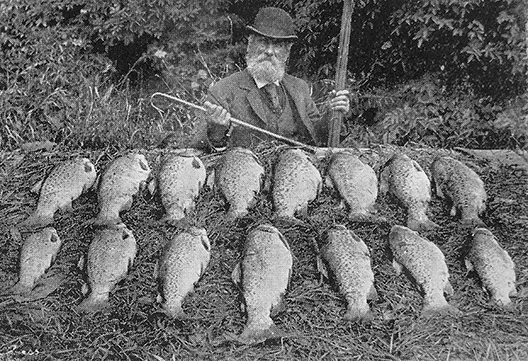 Source: Christchurch City Libraries. CCL-Selwyn-P9040457
1880s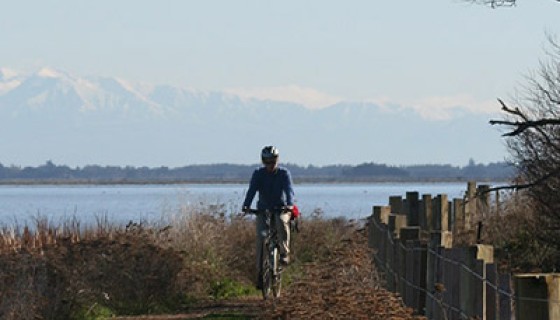 A railway to Little River
In 1876 the Ellesmere and Forsyth Reclamation and Railway Trust Act provided for the survey of Te Waihora and Wairewa/Lake Forsyth and the constitution of a body corporate for the purposes of draining and reclaiming the lakes and constructing a railway (opened in 1882).
The line closed in the 1960s and the section from Motukarara to Little River is now a well-used cycle and walking trail.
1885
Hone Wetere Church at Taumutu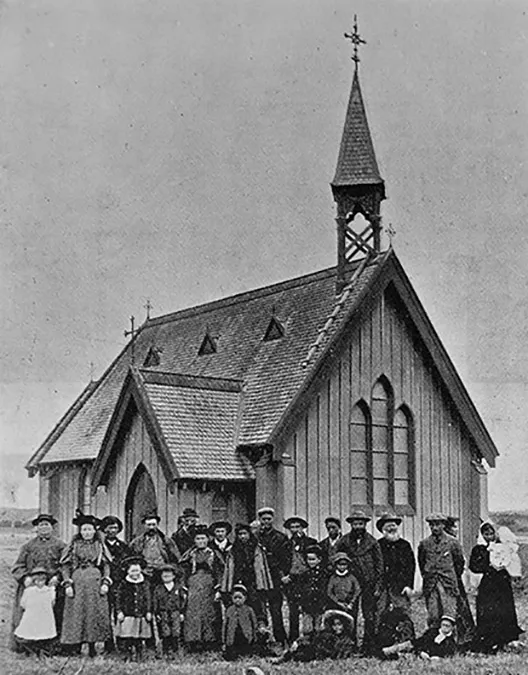 Caption: The Māori church with members of the Māori and European congregation 1899
Source: Christchurch City Libraries. CCL-Selwyn-P7030165
The Hone Wetere Church, a Wesleyan church, funded by local Māori and pakeha families was opened on Easter Tuesday, 7 April 1885, after a long association with the Methodist Missionary that conducted its first service at Taumutu in 1844.
1889
The 'Halswell Cut' opened
In 1889, a canal was cut to connect the Huritini/Halswell River to the lake and drain the surrounding low-lying land for pastoral use.
1891
Ngāti Moki Marae hall opens
A 'rūnanga hall' was opened on 7 May 1891, replacing earlier structures on the site. The hall was named after the ancestor Moki. Over the years, the marae has undergone extensive modernisation and additions, including the addition of a carved waharoa (gateway), around 2010.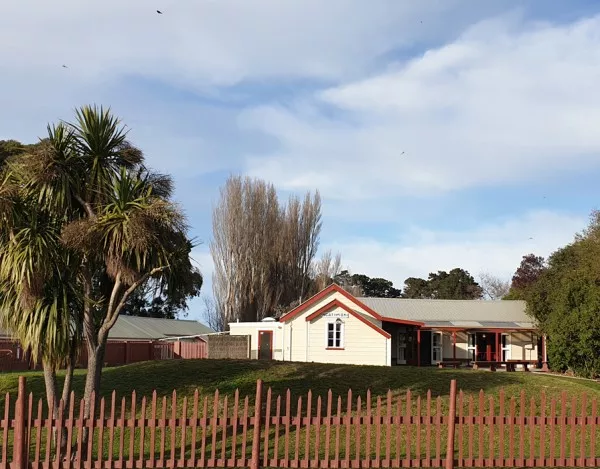 1895
Selwyn Huts and lake-edge settlements
The area known as Upper Selwyn Huts became very popular in the first decades of the 20th century, with many family baches and people flocking to the area at weekends and for holidays. There are also a number of small lake-edge settlements. Some of the original settlements no longer exist.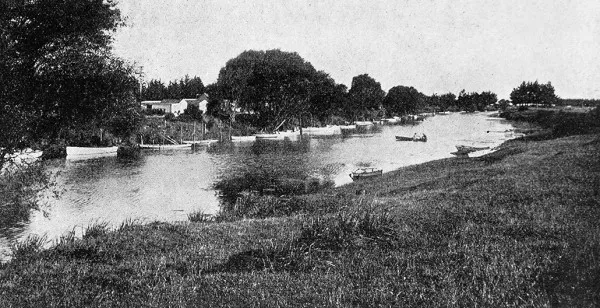 Caption: The 'Selwyn Huts', a popular week-end resort of Christchurch anglers near the mouth of the Selwyn River, Canterbury
Source: Christchurch City Libraries. CCL Selwyn P7310319
1897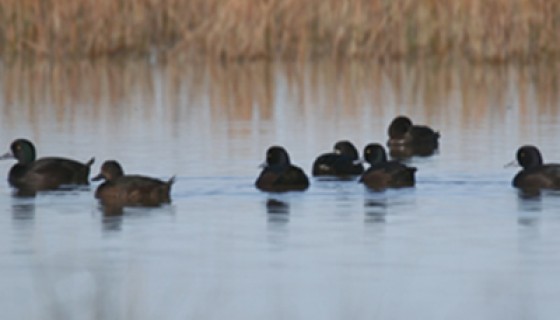 Ahuriri Reserves as a sanctuary
Ahuriri Reserves, also known as Ahuriri Lagoon, is an area of around 250 hectares adjoining the lower Huritini/Halswell River. It was first gazetted as a sanctuary for game birds in 1897.
Early 1900s
A popular location for duck shooting
In the second half of the 19th century, duck shooting at Te Waihora was popular but unregulated. From the early 1900s, the Acclimatisation Society regulated duck shooting, with restrictions on ammunition types, bag limits and protection for some native species.
Today Te Waihora is one of New Zealand's most popular recreational duck-shooting areas, with many maimais (duck shooters' hides) visible around the lake margins.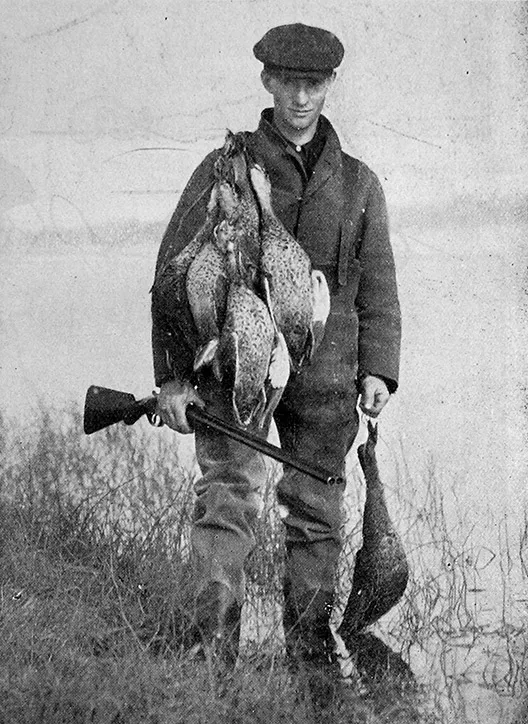 Caption: A duck shooter at Lake Ellesmere and his bag, 5 June 1912
Source: Christchurch City Libraries. CCL-Selwyn-P3261386
Early 1900s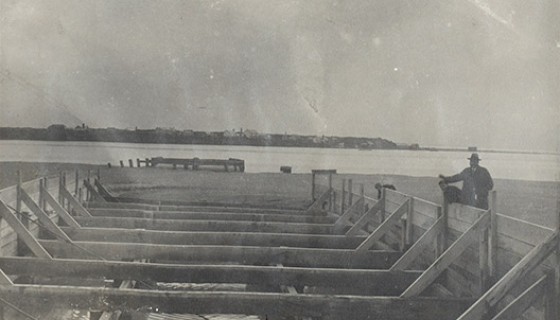 Trying to tame the southerly swells
There have been two attempts to create permanent culverted structures to manage and control the opening of Te Waihora to the sea. The first, in 1904, was known as Dobson's culvert. Unfortunately, the structure failed after a storm in 1908.
The second, constructed in 1908, was Pannett's culvert. This structure operated with mixed success until it was seriously damaged by storms and destroyed in 1925. More information is available in the lake opening section.
Caption: Bottomless timber culvert installed in 1908
Source: Environment Canterbury
1930s
Establishment of Lake Settlers' Association and further drainage
The Lake Settlers' Association was established in the 1930s to give a united voice on lake-edge farming issues. The Association is made up of farmers whose properties are rated to fund the lake opening. Various schemes to prevent flooding and improve drainage have been developed by individuals and agencies.
1930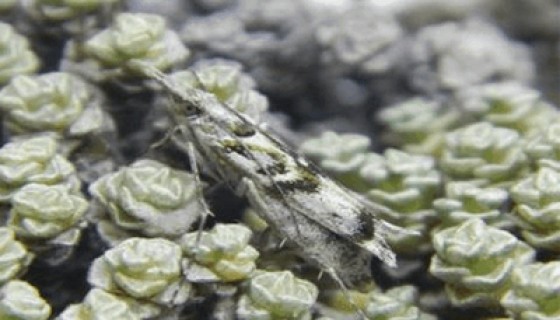 A unique flightless moth
Kupe's Grassmoth is only found on Kaitorete Spit. Kupea electilis was first described by Alfred Philpott in 1930. The moth is endemic to New Zealand. It wasn't until 2021 that a female of the species was found.
1960s, 70s and 80s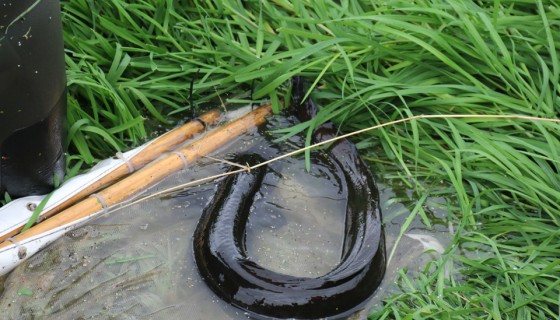 Tuna/eel fishery
Te Waihora has been commercially fished for tuna/eels since the late 1960s. During the 1970s and early 1980s, large numbers were caught, reducing the average size of eels in the lake. This in turn impacted the customary fishing practices of Māori, which are based on allowing the tuna to reach a larger size before harvesting.
An export deal in the 1970s saw large quantities of tuna from Te Waihora exported to London, where they are turned into an East End delicacy – jellied eels.
1968
Wahine storm
Te Waihora once had extensive beds of large aquatic plants including macrophytes around the lake margins. The areas covered fluctuated as land use changed. The Wahine storm of 1968 destroyed most of the remaining plant beds and they have not recovered. The storm destroyed most of the feeding habitat of the kakīānau/black swans, causing a sharp decline in their numbers.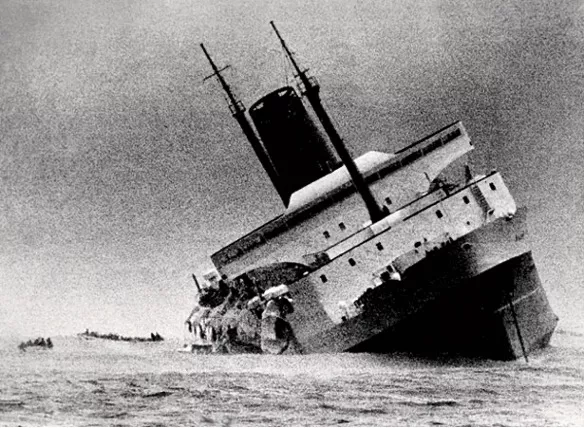 Source: The Dominion Post Collection, Alexander Turnbull Library, EP/1968/1648a/1a-F
1880s – 1980s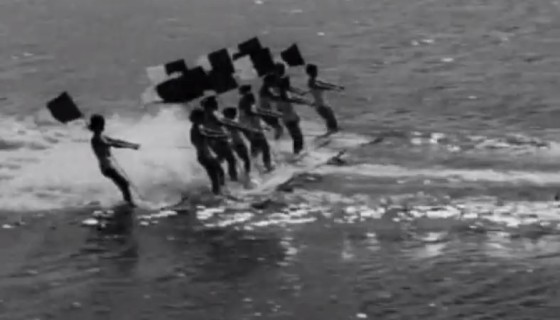 100 years of regattas, races and water-skiing
Small-scale competitions involving rowing, sailing and swimming began at Taumutu in the mid-1880s and became very popular annual events with the first motorboat races held in 1915. Although interrupted by the war, speedboat races and water-skiing competitions continued until the 1980s.
The 1964 national water-skiing championships were held at Te Waihora and featured slalom, jumps and a 'display day' where formation skiing tricks were demonstrated.
Reference: Pictorial Parade 151. National Film Unit, 1964, Archives New Zealand - Te Rua Mahara o te Kāwanatanga
1990
National Water Conservation (Te Waihora/Lake Ellesmere) Order
In 1985 the Wildlife Service (now the Department of Conservation) applied for a National Water Conservation Order for Te Waihora, a legal mechanism to provide recognition of the outstanding amenity or intrinsic values of water bodies. The Order came into effect in 1990. In 2011 it was amended to recognise as outstanding features:
habitat for wildlife, indigenous wetland vegetation and fish; and
significance in accordance with tikanga Māori in respect of Ngāi Tahu history, mahinga kai and customary fisheries.
1991
Ngāi Tahu Land Report
The Waitangi Tribunal report (Wai 27) sets out Ngāi Tahu grievances and the tribunal's findings on them. It covers the tribe's relationship with its land and rich and diverse resources, and the impacts and consequences of the Crown purchases. It is the story of Ngāi Tahu's search for redress over the past 150 years and how the Crown has responded, or failed to respond.
1996
Ngāi Tahu settlement
The Ngāi Tahu Settlement agreement was signed in 1996, followed by the signing of the Deed of Settlement at Kaikōura in 1997, and the passage of the Ngāi Tahu Claim Settlement Act in 1998. The settlement returned the ownership of the bed of Te Waihora to Ngāi Tahu.
2000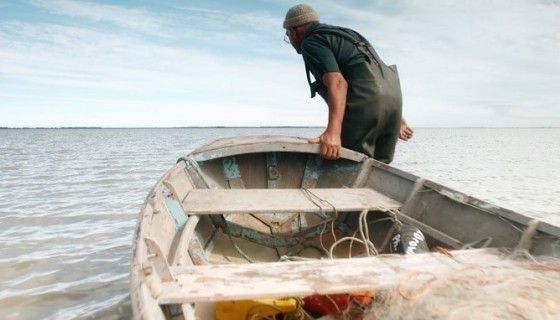 Commercial fishing quota for Te Waihora
A total of 47 species of fish have been recorded in Te Waihora, and the lake supports important customary, recreational and commercial fisheries.
Due to concerns over declining catches, the lake was declared a controlled fishery for tuna/eels in 1978, with catches limited. Quotas were introduced for flatfish in 1986.
Both of these commercial fisheries were included in the quota management system (QMS) introduced in 2000.
2004
Community strategy for Te Waihora
A community strategy for the future management of Te Waihora was developed by the community, local organisations and government agencies. The Waihora Ellesmere Trust was formed in 2003 to support implementation of the strategy. The Trust has hosted a series of 'Living Lake' symposia and produced several 'State of the Lake' reports.
2004
Little River Rail Trail
The Christchurch to Little River Rail Trail is a cycleway and walkway between Christchurch and Little River, using much of the Little River Branch railway line, which closed in the 1960s. The trail follows the edge of the Kaituna section of Te Waihora.
The Little River Rail Trail Trust formed in 2004 to promote, plan, fund, develop and establish a functional and high-quality trail. The trail is now maintained by the Te Papa Atawhai/Department of Conservation.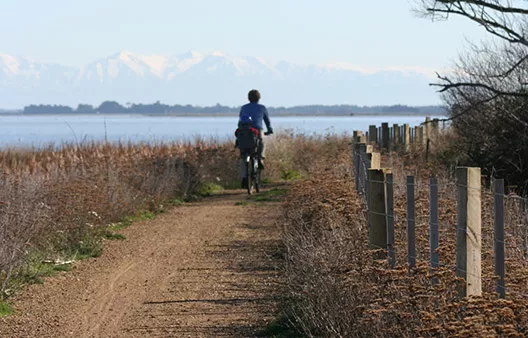 2005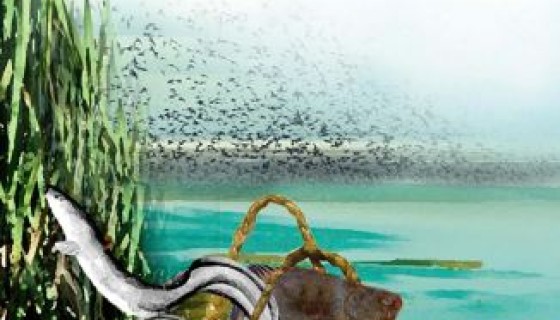 Te Waihora Joint Management Plan
This is the first statutory joint management plan between the Crown (Department of Conservation) and Iwi (Ngāi Tahu).
The plan represents a coming together of the rangatiratanga of Ngāi Tahu and the Kawanatanga of the Crown for the enhancement and protection of this taonga.
2005
Te Waihora declared 'technically dead' by media
Te Waihora is teeming with life, very productive and renowned for the diversity of its wildlife. However, in 2005, Judge Smith in an Environment Court case voiced his concerns over Te Waihora water quality. The media interpreted what His Honour said as declaring that the lake was 'technically dead', which is far from the truth.
2010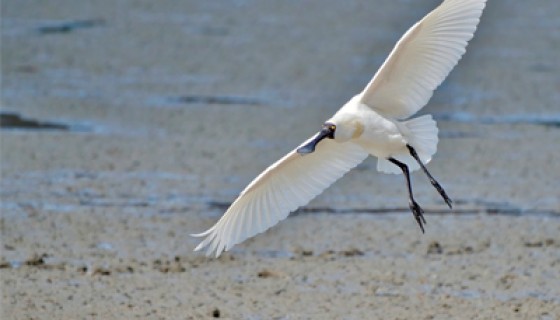 Kōtuku-ngutupapa/royal spoonbills at Te Waihora
Kōtuku-ngutupapa/royal spoonbills were present in pre-European times however first observed at Te Waihora flocking on an island near the Huritini/Halswell River mouth during the 2010/11 breeding season.
Source: Steven Howard
2012
Co-governance for Te Waihora
The Co-Governance Agreement for Te Waihora was signed in 2012 between Te Rūnanga o Ngāi Tahu and the Canterbury Regional Council (Environment Canterbury).
2012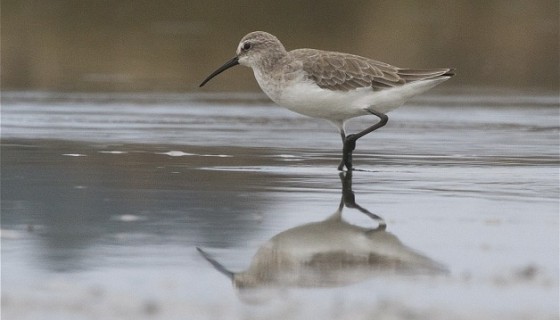 Whakaora Te Waihora
In 2012, Phase One of the Whakaora Te Waihora Joint Restoration programme got underway.
2013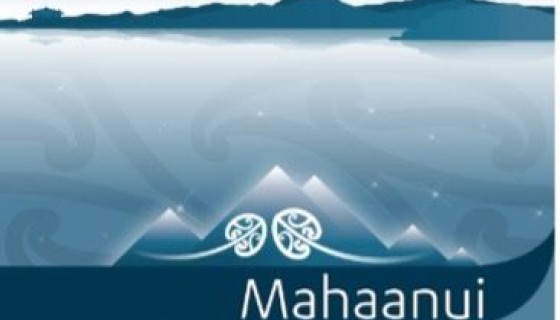 Mahaanui Iwi Management Plan
This Iwi Management Plan is a mana whenua planning document reflecting the collective efforts of six Papatipu Rūnanga representing the hapū holding mana whenua rights over lands and waters within the takiwā from the Hurunui River to the Hakatere River and inland to Kā Tiritiri o Te Moana/the Southern Alps. It provides a values-based, plain-language policy framework for the protection and enhancement of Ngāi Tahu values, and for achieving outcomes that provide for the relationship of Ngāi Tahu with natural resources. It includes a chapter on Te Waihora, a tribal taonga.
2016
Innovative planning rules adopted for Te Waihora
A special feature of the Canterbury Land & Water Regional Plan that applies to the Selwyn Te Waihora sub-region is the Cultural Landscape Values Management Area, an area encompassing the lake, its margins, wetlands, springs and tributaries. Different planning provisions apply to activities that impact water quality to:
Protect mahinga kai, wāhi tapu and wāhi taonga

Restore the health of the lake

Recognise the cultural and ecological sensitivity of the area to discharges of contaminants and the taking and use of fresh water.
2017
Milestone for Whakaora Te Waihora
Phase One of the Whakaora Te Waihora Joint Restoration programme ran from 2012-2017.
Achievements of the programme include:
Over 200,00 plants planted
Re-establishing a wetland (Te Repo Orariki)
Weed and willow control at priority sites.
Achieved real-time monitoring of lake water quality.
Completed scientific investigations, including for a trial establishment of macrophytes planted behind wave barriers, fish recruitment/fisheries management, the lake opening, mahinga kai bio-health, assessment of nutrient attenuation, and nutrient cycling.
Supporting Lincoln University on the development and implementation of an integrated monitoring plan.
Supporting Te Ara Kākāriki to deliver the Kids Discovery Plant-out, reaching 11 schools and 1,000 students.
Re-battered 21.3km of waterways to reduce sediment.
Implemented restoration actions for the Huritini/Halswell River, Waikēkēwai Stream, Harts Creek/Waitatari, and Kaituna River.
Held five Farm Environmental Plan (FEP) workshops, completed 53 FEPs, and held two field-days.
Phase Two has seen further projects initiated.
2018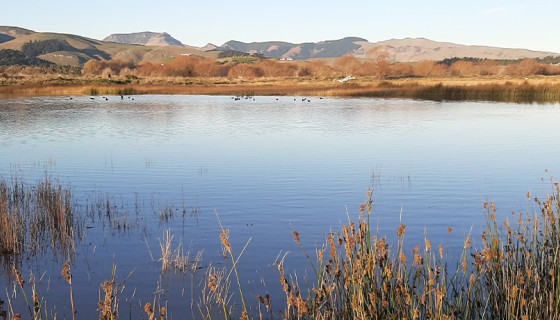 Ahuriri constructed wetland
The twenty-year project to construct a wetland at Ahuriri Lagoon aims to improve water quality, biodiversity and mahinga kai values. 80,000 aquatic plants have been planted in the water, and more than 52,000 plants have been planted around the lagoon.
2021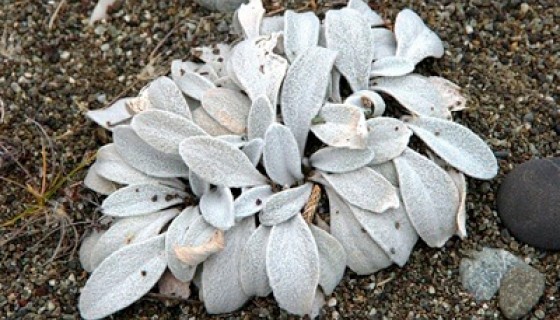 Project Tāwhaki
Project Tāwhaki is a partnership between Kaitorete Limited (Te Taumutu and Wairewa) and the Crown. The partnership has purchased 1,000 hectares on Kaitorete Spit to protect and rejuvenate the Kaitorete environment, an area of significant cultural importance to the Rūnanga with internationally-recognised ecological value. The intention is also to develop aerospace activities and research and development facilities with potential to generate significant and sustainable economic opportunities.
2021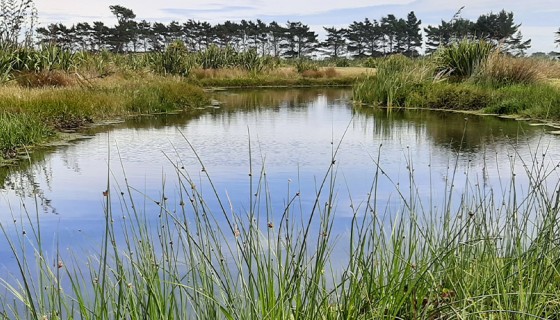 Whakaora Te Waikēkēwai
Restoring the cultural and ecological values of the lower to mid reaches of the catchment of Te Waikēkēwai/Waikēkēwai Stream is the goal of Te Taumutu Rūnanga and the Whakaora Te Waikēkēwai project.