Waterwise 2022
Waterwise is an annual programme for senior secondary and tertiary students, run by the Untouched World Foundation in partnership with Te Rūnanga o Ngāi Tahu, Rata Foundation, Ara Institute and Environment Canterbury. The week-long programme focuses on resource management, particularly freshwater and wetlands in the Selwyn Waihora zone, combined with personal and leadership development for the participants.
This year, the programme was based out of The Barn at the Cracroft Girl Guide Centre. Participants came from schools across Greater Christchurch and engaged in several activities including presentations from experts, field activities, discussion panels, values exploration, and leadership sessions. They also spent an afternoon helping to plant a swamp kahikatea forest on Patchett's Farm, one of Te Ara Kakariki's Green Dots.
The 2022 camp took place in late September, during the last week of term three, with a smaller group than usual thanks to the impact of Covid interruptions. However, those that participated did so with enthusiasm and drive.
Feedback from the young people was very positive, with many saying they gained confidence and understanding of the issues within freshwater management.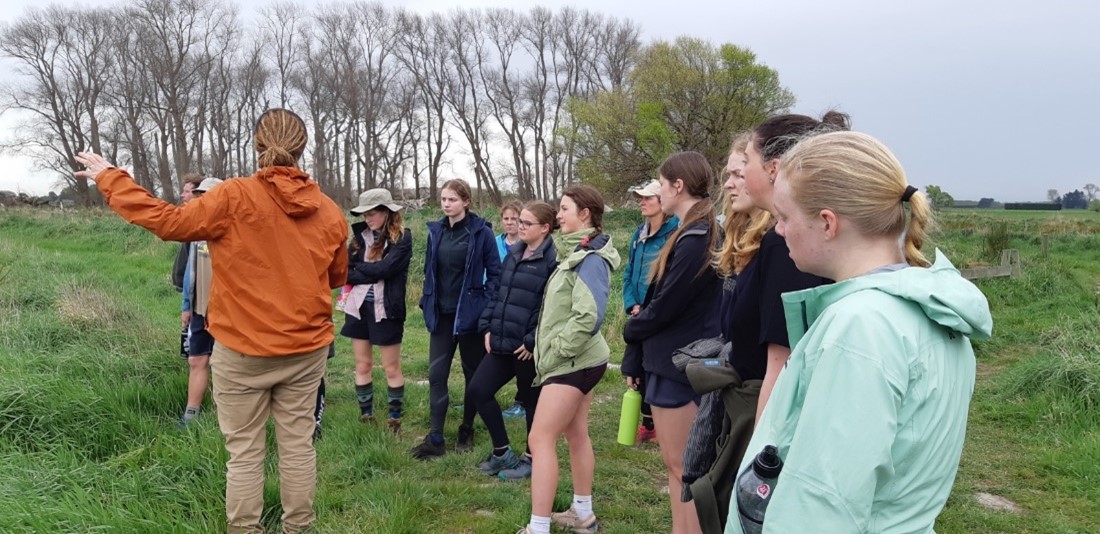 Greg Stanley, Environment Canterbury, talking with the group at the Ahuriri restoration site.
"The complex thinking really shocked my brain along with trying to figure out my values and strengths; I have a better understanding of myself now and am more motivated to go out and learn." - Shelby
"It was tiring but I learned so much; I will carry what I learned with me throughout my life." - Mirabel
"I found being out of my comfort zone very challenging but the views and perspectives I gained from them were valuable. I found the intergenerational conversation difficult but very rewarding." - Emily
Intergenerational conversations
The attendees hosted an intergenerational conversation on the Thursday evening, with 28 invited guests present, representing councils, community groups, rūnanga, and schools. The discussion was led by the young people and focused on topics chosen by them – education, youth voice, values and perspectives. There was a real hubbub of conversation as ideas were shared.
"Thank you for a wonderful evening. I left feeling hopeful that we have a new generation that is motivated, smart and passionate about the environment." - Hayley Guglietta, AvON
"Thank you and congratulations to all involved. It was clear that you are all passionate, articulate, motivated, so well informed and dedicated to improving water, and the environment" - Joseph Burston, teacher at Oxford Area School
"Indeed this was a heartening evening and great people involved…young and old...it was a place to learn from so many of you..." - Diana Shand, ECO Canterbury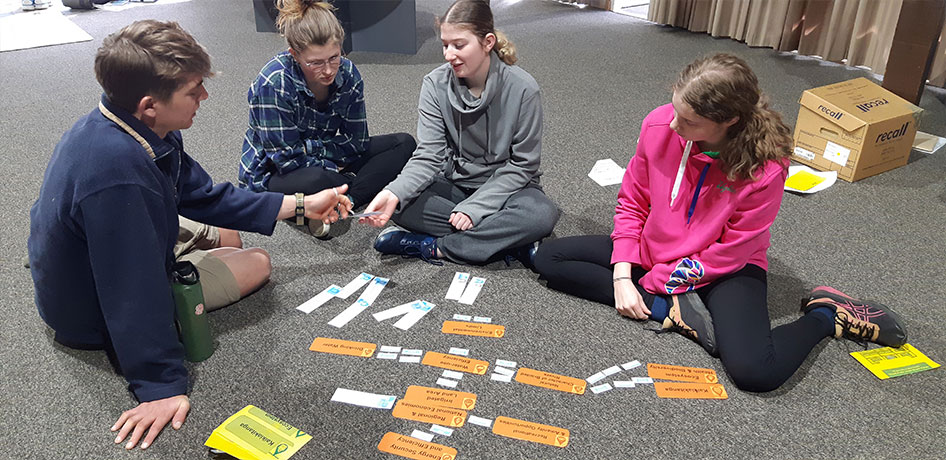 One of the teams working on a Canterbury Water Management Strategy matching task.